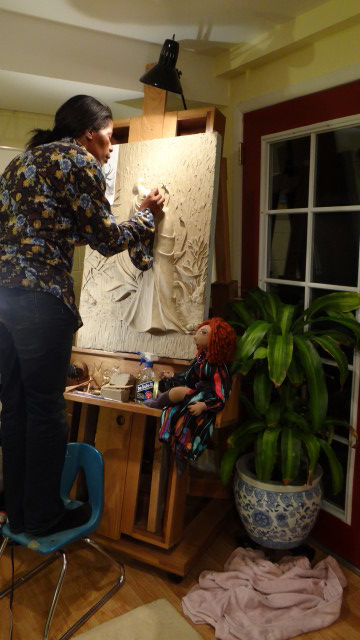 Louise in the studio working on Sanctuary
The Bronze
My Bronze pieces are birth out of my paintings. I feel each of my painting are incubators for something greater. As I recreate the forms from my paintings in clay they become a new body of work. Work that is alive in three-dimensional form, that is born from a creation forming yet another creation. Much like our creator formed us.
I have always loved clay, from an early age I loved it. Making things with clay was one of my favorite things to do in school as a kid, that and drawing. I worked a lot with clay in college and at one point I though I wanted to be a potter, however painting was my passion at the time. Besides I really wasn't that big into functional art. I preferred hand building.
I began sculpting in clay again in 2011 once I found out we had moved right near the sculpting capital of the world, Loveland Co. at least that is what they told me. Returning to clay has been something I have been gravitating to for sometime. Several of my painting have had a sculpture like feel to them, one painting in particular titled "Mother's Love" was continually in my thoughts. The day I painted it, I knew it was to be come a sculpture. She was the first sculpture I created when I started, It was like breathing life into her and bring her to life.
My work almost always starts with a figurative form, and then everything else grows around it. It's as if the figure gives birth to the rest; without the figure, the painting cannot exist. I am a Mix-media, multi-cultural artist and sculptor with a focus on nature and the clothed human form. Simplicity, peace, harmony, calm, is my mantra. This is echo throughout my work. I try to continually live in the now, forgetting those things that are behind and awaiting what lies ahead. Every day is a new day with no mistakes in it.